Due to the Covid pandemic, this year also, Apple held its annual Apple Worldwide Developers Conference online-only. It began on June 7 and ended on June 11, 2021. Some of the biggest highlights of this year's conference include iOS 15, SharePlay, improved notifications, iPadOS 15, WatchOS 8, Siri on third-party devices, and many significant changes that surely appeal to iOS users and developers.
When will iOS 15 be released and when iOS 15 is coming out – these two questions remained the most-discussed topics ahead of the conference. While we wait for the iOS 15 rollout this fall, let's see what iOS 15 has in store for you.
This post talks about iOS 15, its release date, features, and everything in detail so you will know major updates and improvements in advance.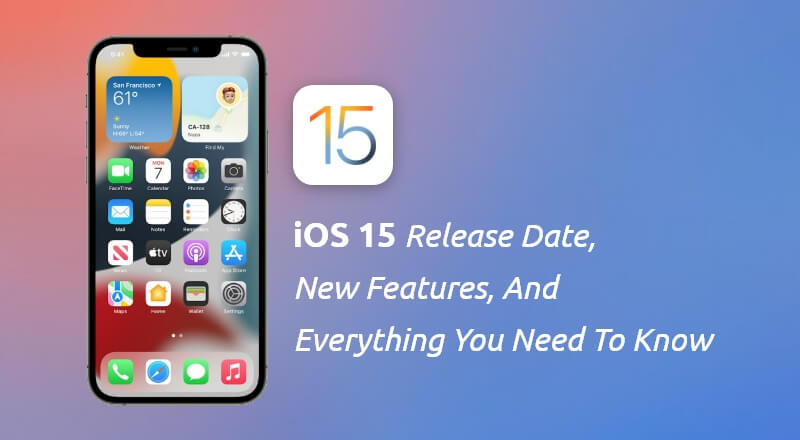 iOS 15 Is Announced: Here's What To Expect From Apple's Upcoming Operating System
Before we start dwelling on details, let's first know the release date of iOS 15.
Apple presented a preview of iOS 15 at WWDC and new features that are coming to iOS 15. It will be available this fall and a public iOS 15 beta will be available in July. The iOS 15 release date is yet to be announced but as per the official source, new operating systems will be available to download starting this fall.
iOS 15 is equipped with features that let users focus, explore, be productive, stay connected, and take the help of enhanced on-device intelligence to do more. With this latest version, developers also have access to many great features that will improve the developer experience and accelerate iOS app development.
iOS 15 Features:
FaceTime Updates And SharePlay
Focus: A New Feature That Help Users Focus
Improved Notifications
On-Device Intelligence
Enhanced Safari
See More Clearly With Apple Maps
More Privacy Controls
New IDs and Keys For Apple Wallet
Weather And Notes Apps Redesigned
Other Features
Let's explore each in detail.
FaceTime Updates And SharePlay:
This interesting feature will be admired by iOS users! With this SharePlay feature, users can listen to songs together, watch a video or TV show together, or share their screens right in FaceTime.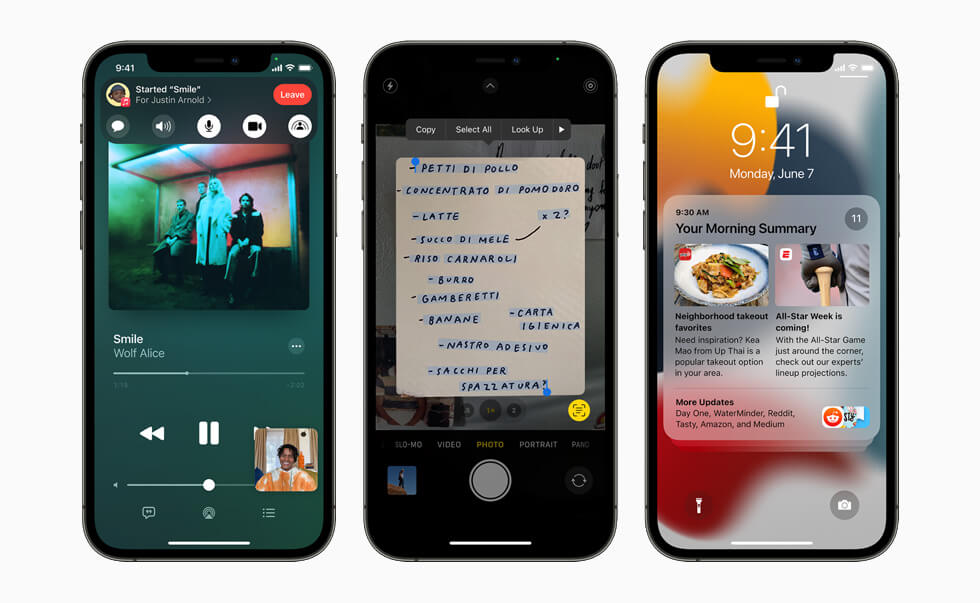 It offers a great experience with synced playback and controls, making collaboration and conversation easier and enjoyable! It allows users to stream TV shows on FaceTime calls, listen to songs with the whole group, or sharing a screen while you are on a FaceTime call with your friends or family.
It opens a new way to connect, share, and browse together. SharePlay works with iPhone, iPad, Mac, and also Apple TV. SharePlay will keep everyone's playback in sync so you will have the same reactions and moments at the same time. Isn't this exciting?
Grid view of participants, portrait mode, clear and enhanced mic modes, spatial audio – these all make the conversation more natural and flawless.
Focus – A New Feature That Help Users Focus:
More apps mean more notifications and more distractions. Now, Apple iOS 15 helps users to focus! It is one of the powerful features of iOS 15 that help users reduce destruction by filtering notifications and apps based on what users want to focus upon. Users can create custom focus or choose from the selected focus to control the device so the device itself can help them to focus.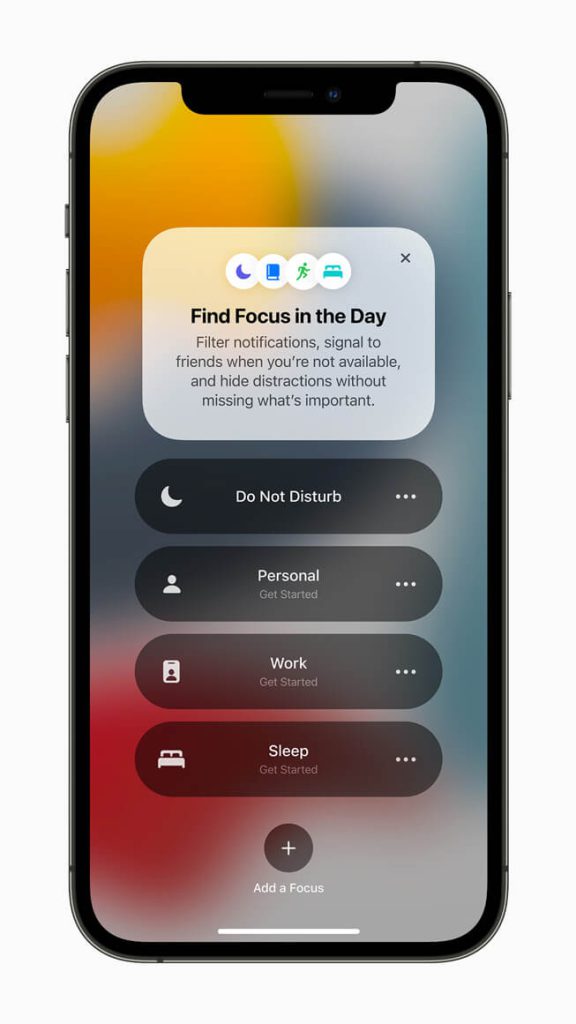 It uses on-device intelligence to control which apps and people can notify them. It is based on users' context and helps users control the device so that they can stay focused and distraction-free during their office hours, particular activities, or even sleep.
When users use Focus, their status will be automatically displayed to others in messages, making it easier for them to step away and continue to remain focused.
Improved Notifications:
iOS 15 offers redesigned notifications. With the use of on-device intelligence, notifications are arranged by priorities and based on the user's interaction with the app. It also includes contact photos for people and larger icons that make them easier to identify. It also bifurcates non-time-critical notifications and urgent messages and delivers them at a more appropriate time such as in the morning or evening. Urgent messages will be delivered quickly and on the top based on the relevancy so it will be easy to pay attention to. You can also mute notifications or any messaging thread for the next hour or even for the day.
On-Device Intelligence:
By using on-device intelligence, it is possible now to recognize text from the photos with Live Text. With Visual Look Up, users can study popular art and landmarks, and also learn about plants, flowers, books, and nature by tapping a photo on your device or the web.
Spotlight, another powerful feature shows more information with rich search results especially for artists, TV shows and movies, entertainers, and also your contacts. It uses intelligence to search photos by location, people, scenes, and objects.
Memories come with a new interactive interface and new Memory mixes that offer personalization of the look and feel of your stories along with a song and matching vibe. Apple Music is now integrated with Memories. By using on-device intelligence, Memories offer personalized song suggestions that bring life to memories and your stories.
Enhanced Safari:
Apple is known for its amazing user experience. Safari gets a new design in iOS 15 with a new tab bar. This streamlined tab bar is lightweight, compact, and offers the best browsing experience. It is designed in a way that it takes less space on the page and is placed slightly above the bottom of the screen so that it's easier to reach. It goes out of the way as you scroll and appears again with a tap. New tab groups help you save and organize tabs so that you can easily switch between tab groups in the tab overview.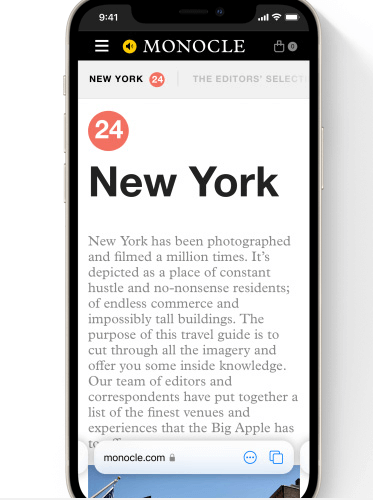 Integrate Smart Search field and customizable start page make your browsing experience more personal and powerful.
See More Clearly With Apple Maps:
Apple Map is considered one of the best and detailed maps ever. Apple has worked on Maps and its design to help users see and explore the world with ease to make it better. Users will be able to observe improvised details for the three-dimensional city-driving experience, mountain ranges, deserts, forests, oceans, and more. It also includes significantly enhanced details like slide lanes, cycle, bus and taxi lanes, crosswalks, and much more.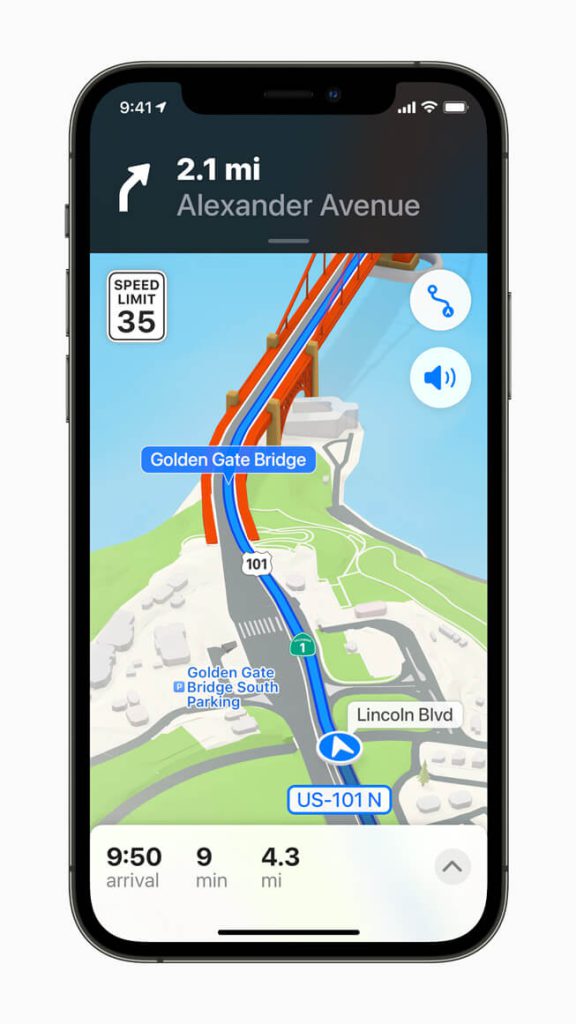 With the advanced search, you can filter your results, for example, when you search restaurants, you can filter your search results by cuisines or takeout option, or you can choose the place that is open now. With an interactive and immersive experience, users can simply hold up the iPhone and Maps generates an accurate position to deliver walking directions in augmented reality.
More Privacy Controls:
Apple emphasizes the privacy of users and is committed to protecting users' information. App Privacy Report provides an overview of how apps use the granted access that has been given to them for the camera, microphone, location, photos, and contacts in the last seven days. You will have a watch on apps and see how they're handling your privacy. Audio of Siri requests is now handled entirely on your iPhone with on-device speech recognition. Mail Privacy Protection also improvised and prevent senders from knowing whether an email has been opened and hide IP addresses so the location can't be tracked.
New IDs And Keys For Apple Wallet:
With iOS 15, Apple Wallets adds support for additional keys that make access easier and digital. Last year, Apple introduced digital car keys which was adopted by BMW and allow users to unlock car with just a tap. In this iOS 15 release, digital car keys have been improvised. Along with car keys, iPhone can be used to unlock a room, office, or even a hotel room through keys stored in Wallet.
Users will be able to add their driver's license or state IDs to the Wallet in participating states. IDs in Wallets are secure and encrypted and offer easy access and availability.
Weather And Notes Apps Redesigned:
The Weather app includes more graphical representations of weather data and dynamic layouts. Beautifully designed animated backgrounds and more accurate information will let users know what's happening outside.
Notes add user-created tags that make it easy to organize and categorize. Mentions allow collaboration easier and direct in shared notes.
Other iOS 15 Features:
Everything that is shared with you by your friends and family is now stored in a different section – Shared With You. It reflects everywhere – Messages, Music, Photos, Podcasts, Apple TV App, and Safari browser. This is more convenient and quick to find photos, articles, pins, songs, videos that are shared with you.
Apple helps users to keep track of everything with FindMy. Users can find a device and also Livestream locations for their families and friends. It will send separation alerts if any user leaves an AirTag, Apple device, and network accessory behind in an unfamiliar location. It now supports AirPods Pro and AirPods Max.
Apart from that, Apple fulfills more than expected when it comes to accessibility. New features for VoiceOver enable users to explore more details about everything – people, text, data, and other objects in the images. Minimize distractions, bidirectional hearing aids, and customized Switch Control to work with mouth sounds – these all make Apple stand out of the crowd in accessibility and controls.
Now, you can share health data with your family members. You can select which data to share. People who have access to your health data can also see the notification and alerts regarding it.
There will be new widgets in iOS 15 for apps and features like Find My, App Store Today, Sleep, Mail, Game Center, and People with family sharing integration.
With iOS 15, you will get the enhanced experience of iCloud and an all-new subscription that replaces today's storage plans. It includes new features like Hide My Email, expanded HomeKit Secure Video, and iCloud Private Relay.
iOS 15 makes translation smoother and system-wide that enables users to translate anywhere on their devices. Auto translate and face-to-face view help seamlessly translate across languages.
Ask Siri to share photos, web pages, and news, and more. If an item can't be shared, Siri will ask users to send a screenshot instead.
iOS 15 is power-packed with a lot of features and important updates that will surely enhance the experience and offer more personalized options to explore. iOS 15 provides several important UI updates that increase productivity and improve the developer experience.
Good Read: Key Features Of The Newly Announced iOS 14 – The Enhanced Version
Concentrate, Explore, And Achieve More With iOS 15
Apple is the world's largest technology company and it is the #1 choice for online services, software, hardware, and other electronics. With continuous enhancement and first-rate user experience, hardly any company can beat Apple in terms of usability, community, and expansion. iOS 15 release will set new benchmarks for performance, security, and accessibility by offering a personalized, customizable, and seamless experience across devices. Apple is known for its unique features and thought-process and that's how they are dedicated to their slogan –