For 14 consecutive years, Gartner has recognized Microsoft as a Magic Quadrant Leader in analytics and business intelligent platforms. Power BI has helped over 250,000 organizations including 97 percent of the Fortune 500 companies to drive a data culture and harness the power of data to make informed decisions.
Power BI is loved by data enthusiasts around the world and there is no doubt that it is one of the finest of business analytics and BI platforms. It has made it possible for every individual and business to establish a data-driven culture.
Power BI is flourishing. It has a wide community and customers like Humana, Nestle, Zurich, and many more. Microsoft Power BI stack offers a wide range of Power BI services and business intelligence capabilities that enable everyone to analyze data through data-rich visualizations.
Despite its growing community and great features, it lacks in handling a huge volume of data effectively. Also, the complexity of visuals and performance issues are there that make Power BI less suitable for some industry-specific, enterprise-level business analytics scenarios.
Here, in this post, we are making it easier for you to select Power BI alternatives that suit your needs better. We are here with the top alternatives to Power BI that are popular, recommended, and used by data enthusiasts across the globe.
Note: Power BI is a flagship product of Microsoft. It's a great product and loved by users. We don't have any intention to diminish its importance or popularity. We are representing alternatives to Power BI so users can choose what suits their needs.
Power BI Alternatives/Competitors
Many factors are taken into considerations when you evaluate different business intelligence platforms. Every platform has its set of features and capabilities that make it different from others.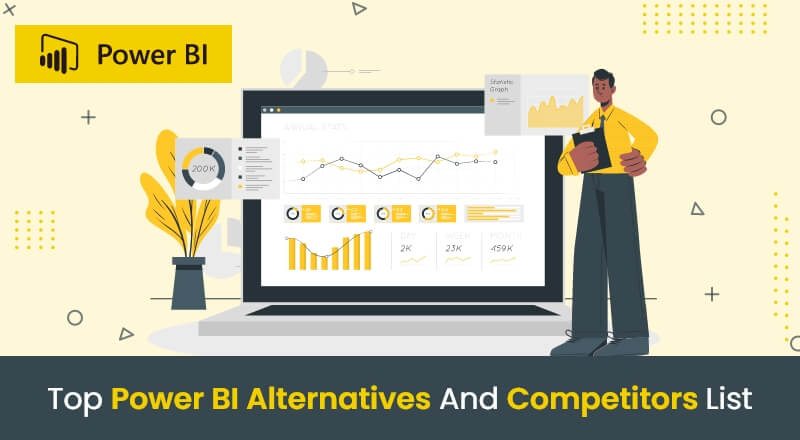 Top 15 Power BI Alternatives
Tableau
Qlik Sense
Pentaho
Talend
Google Data Studio
SAP Business Intelligence
Sisense
Oracle Analytics Cloud
Looker
MicroStrategy
Cyfe
Databox
Klipfolio
TIBCO Software
Zoho Analytics
Let's explore what each platform offers and how they are helping organizations better understand data.
Tableau:
Tableau is the world's leading analytics platform and first-rate data visualization software company. It was acquired by Salesforce in 2019. Tableau helps organizations see and understand data so that they can build a data culture across an organization. It is widely used by large world's leading organizations such as Verizon, Honeywell, Nissan, Whole Food Markets, Pfizer, Red Hat, Signet Jewelers, Dubai Airports, and many more in diverse industry verticals.
It is recognized as a leader in the Gartner Magic Quadrant for Analytics and Business Intelligence Platforms for nine consecutive years, 2012- 2021.
With more than 13,000 new visualizations shared each week, Tableau Public is the world's largest data viz repository. Tableau offers full-cycle self-service analytics that enables everyone to see beyond data and extracts insights from it. With a number of products and services, Tableau helps organizations collect, integrate, explore, analyze, and visualize all data without coding. It also offers powerful and flexible integration and deployment options, making it easier for the customers to get maximum value from the data regardless of the data format and source.
Unlike Power BI, Tableau works best when there is a huge volume of data and offers the best data visualization functionalities.
Qlik Sense:
Qlik Sense is a complete data analytics platform with a one-of-a-kind associative analytics engine combined with powerful AI. It is often compared with Tableau and Power BI and allows any user to find hidden insights from data. Qlik was founded in 1993 and it owns a dominant market share with a huge user base. Qlik's two main products – QlikView and Qlik Sense enable everyone to leverage data analytics and business intelligence to make data-backed decisions.
Qlik is working on data literacy on a global scale. It offers many advanced products with a high-performance cloud environment, AI-powered functionality, and an advanced analytics engine. Its end-to-end visibility, data integration, and self-service BI capabilities are used by the world's leading brands and businesses.
Pentaho:
Pentaho's data integration capabilities are popular among data scientists, and the business intelligence community. It is an end-to-end analytics platform that enables businesses to collect, access, prepare, and analyze all data from all sources. It was acquired by Hitachi Data Systems in 2015 and became a part of Hitachi Vantara.
It provides OLAP services, data integration, reporting, information-rich dashboards, data mining, and ETL capabilities. It is one of the leading analytics platforms with a deep focus on data integration and self-service data access that empowers everyone in the organization to participate in the data-driven culture.
The Pentaho community is very broad and frequently advancing its core offerings to help its users meet the growing needs of a data-driven culture.
Talend:
For the fifth consecutive year, Gartner named Talend a leader in the 2020 Magic Quadrant for Data Integration tools.
Talend Data Fabric is a unified platform that combines data integration, data quality, and governance. It offers an at-a-glance assessment of your data's reliability and focuses on the integrity of data.
It has several world-leading brands as its customers that include Loreal, AstraZeneca, Accor, Dominos, Citibank, and many more. Talend offers products and services for data integration and self-service analytics capabilities.
Talend was recognized as a Leader in The Forester Wave™: Enterprise Data Fabric, Q2 2020.
Google Data Studio:
It is an online tool for converting your data into customized reports and dashboards. It is a part of the Google Marketing Platform. It was made freely available in March 2016. It lets users explore data and dive into the data by using its powerful features such as pre-built data connectors, powerful data visualization, interactive dashboards, and engaging reports.
This free software by Google made it possible for every business – be it a small or large utilize the power of data to make decisions for tomorrow.
SAP Business Intelligence:
SAP Business Objects Business Intelligence suite helps users make better and data-powered decisions using a single, scalable, and centralized platform. It offers data visualization, reporting and analysis, sharing, real-time analytics, role-based dashboards, and self-service BI features.
It is the on-premise BI layer for SAP's Business Technology Platform. SAP Analytics Cloud is another BI tool that helps users make smarter decisions with AI-driven insights and BI capabilities. SAP BI helps organizations to identify opportunities, increase efficiency, assess risk, and analyze trends – anywhere, anytime, on any device.
Sisense:
In February 2021, Sisense was listed as a Visionary on the Gartner Magic Quadrant for Analytics and Business Intelligence Platforms.
Sisense is a leading business intelligence software company founded in 2004. It offers AI-driven analytics solutions that enable companies to infuse analytics and embed intelligence anywhere. It has gained worldwide attention as a leading cloud analytics platform and is used by over 2,000 companies to unlock extraordinary and powerful insights from data. Sisense's one of the advantages compared to other platforms is it uses disk, RAM, and CPU efficiently that resulted in high performance and easy scalability.
Oracle Analytics Cloud:
Oracle Analytics Cloud is an excellent platform that enables everyone to access and utilize data to establish data culture with the help of automation and intelligence.
It streamlines all data sources and preparation across an organization so that decision-makers can get insights in real-time. It is an end-to-end platform with features like self-service data visualization, mobile analytics, enterprise reporting in one software. It helps users see data more closely and predict accurately so that businesses can identify risk and opportunity at the right time.
Analysts can prepare, transform, and then perform analytics using machine learning and statistical models. Oracle Analytics Cloud is available in Professional, Essbase, and Enterprise editions.
Looker:
Looker Data Science, Inc is an American business intelligence platform headquartered in Santa Cruz, California. It was acquired by Google in 2019 and is now part of the Google Cloud Platform. It offers various products and tools for relational database work, modern BI, and analytics. It supports multiple data sources and deployment methods that help anyone drive insightful results across the business.
It is a popular modern BI platform that is used by over 2000 companies to make informed decisions that foster growth.
Looker is recognized in the Gartner 2021 Magic Quadrant for Analytics and Business Intelligence Platforms. 100% of customers recommend Looker in BARC's The BI Survey 21.
MicroStrategy:
As its name suggests, it helps businesses build micro strategies based on data and insights. MicroStrategy is a leading BI and analytics platform that help business of every size realize the true potential of data to become a data-driven and more intelligent enterprise.
Its Embedded Analytics, Cloud Intelligence, and Hyper Intelligence empower users with data accessibility, data discovery, and powerful analytics to leverage actionable insights from the data. MicroStrategy's major clients include Disney ABC, Pfizer, Standard Chartered, Epicore, Genesys, and many well-known brands. People of diverse industry verticals such as Retail, Finance, Government, Healthcare use MicroStrategy to harness the true potential of data.
It was selected by BARC as 'Top Ranked' among large global BI platforms.
Cyfe:
Cyfe is a self-service cloud-based BI software popular for its business dashboard creation. It was founded in 2012 in Los Angeles, California. One of the important features of Cyfe is, it lets a user connect to the social network, websites, email accounts, Google Analytics, and other integrations so that business owners can track real-time data and monitor business KPIs.
Cyfe dashboard supports 15 languages and is easy to set up and manage. It offers embedded analytics that makes it easier for the business to share business data with in-depth customization, white-label options, and flexibility.
Cyfe is now part of Traject, a suite of marketing tools for marketing agencies.
Databox:
Databox's offerings are more related to performance monitoring and goal tracking of business. It lets the user combine data from any source and calculate metrics and ROI at just a few fingertips. It aims to improve performance by offering real-time alerts, easy calculation of KPIs, and data integration so that everyone can act on insights rather than just creating reports.
It also offers a Dashboard designer using which anyone can just pull the metrics they want and visualize KPIs in different ways without having to learn code and design.
It is used by 15,000+ organizations to track progress and improve performance.
Klipfolio:
Klipfolio is used by the world's popular brands that include Visa, IBM, Deloitte, BMW, KPMG, Ricoh, Volvo, Under Armour, and many others. Klipfolio is a Candian software company founded in 2001 and headquartered in Ottawa, Ontario. It offers a platform for building real-time dashboards and next-gen analytics with easy-to-use, centralized, and all-in-one solutions.
With 300+ data sources and pre-built connectors, it lets anyone connect to the data sources easily with managed reporting and information-rich dashboards. It aims at providing a real-time, single source of truth, and a 360-degree view of your business data to make data-driven decisions.
TIBCO Software:
TIBCO Software is a global leader in enterprise and analytics software. Its products act as middleware that allows access to real-time data between multiple systems. It is used in Amazon's personalized recommendations as well as in FedEx's package tracking system. TIBCO's connected intelligence platform unifies data for access, control, trust, and predict outcomes in real-time.
TIBCO is a very popular software and recognized in over 14 areas as a leader in Integration, Data Management, and Analytics. 21 of the top 25 global 2000 companies use TIBCO to drive real-time insights and results inspired by Data.
It lets users connect, unify, and predict outcomes in real-time that further accelerate business growth.
Zoho Analytics:
Zoho Analytics is a self-service BI and data analytics software that offers data analytics, visualization, and dashboard creation. By using it, you can discover hidden insights from the data through stunning visualization and dashboards. You can also track and monitor your key metrics, trends, goals, and see how they are performing in real-time.
It offers a connection to a wide number of data sources. With its drag-and-drop designer, you can visualize all your data in minutes. It is very popular for small and large enterprises, enabling them to create a data-driven environment across an organization. It can be embedded within your website, application, product, and portal with AI-powered analytics.
According to BARC Survey, "97% of surveyed users would recommend Zoho Analytics."
It is also listed as the top data visualization tool for business professionals. Many brands such as IKEA, Suzuki, Hewlett Packard, Hyundai, HDFC Life, Johnson Controls, and other popular organizations trusted Zoho Analytics for their data analytics and BI needs.
What's The Best Microsoft Power BI Alternative?
Before selecting any BI solution, you need to evaluate each by ease-of-use, price, setup, functionality, security, and support. You can use free trials to try different options and see how they meet your requirements. Choosing the right Power BI alternative normally depends on the end users, data sources, budget, and accessibility of data. Choose any BI solution that delivers actionable insights and fits your other parameters.
The market size for business intelligence and analytics software applications is predicted to increase worldwide over the next few years from 14.9 billion US dollars in 2019 to 17.6 billion in 2024.

Source: statista.com
Any organization – be it a small, mid-sized or large can't ignore the power and potential of data to become a future-ready, data-driven organization. BI solutions, when utilized effectively, bring accuracy, speed, and agility in the decision-making at every level.
Have you tried Power BI?
Which BI solution you are using for your company?